The small village of Shanagolden provides the perfect starting point for access to some of the most vibrant towns in Limerick and beyond.
Just a hop, skip and jump away from Maple Valley Guest House, lies the harbour town of Foynes, famous for its Flying Boat and Maritime Museum. The second largest seaport in Ireland, the town's highlights also include a Maureen O'Hara Exhibition, Foynes Yacht Club and Foynes Woodlands with its many forest walks and trails.
Hailed as Ireland's prettiest village and renowned for its stylish boutiques, authentic thatched cottages and picturesque streets, Adare offers a truly delightful day out. Also rich in history and archaeological significance, the village provides a variety of cultural experiences including Adare Heritage Centre. Adare Manor Golf Club also offers a unique golfing experience with one of the country's most scenic courses.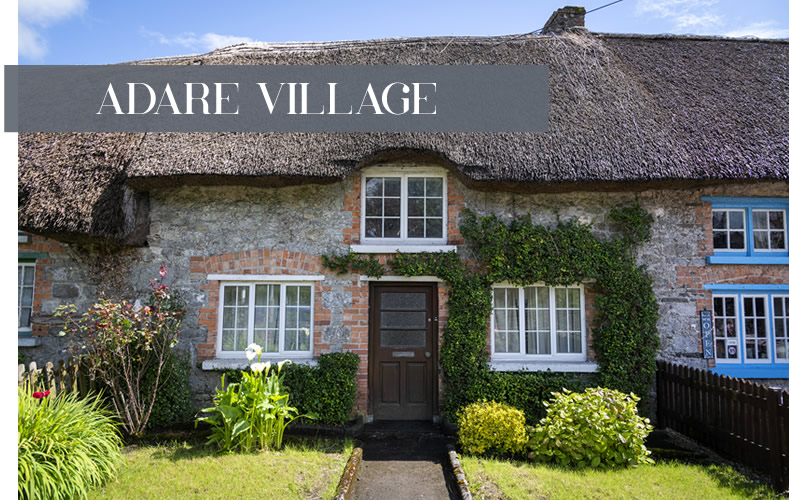 Believed to be the oldest town in Ireland, the ancient town of Askeaton is bursting full of historical memoirs and landmarks. Explore the preserved ruins of its 14th Century Franciscan Friary, a special feature of the village and gain a unique insight into medieval Ireland.
At the heart of Munster's Golden Vale, Newcastle West is a thriving town full of fantastic amenities including a sports complex, 18-hole parkland golf course and skate park. With access to the Limerick Greenway as well as Castle Demense Park, the town offers an array of outdoor activities for all the family.
Located along the N69 scenic driving route, the village of Glin is situated on the banks of the Shannon Estuary. Home to Glin Castle with its walled gardens and woodlands, the village offers an extraordinary perspective of Ireland's colourful past. Another highlight includes its bustling market square with its many local stalls.
A bustling and colourful city with Georgian architecture and grand museums, Limerick is a magnificent city to enjoy a day excursion, a long weekend or a more extended trip. Soak up some culture at the Limerick City Gallery of Art, the Hunt Museum or King John's Castle or savour the eclectic scenes of the city at the buzzing Milk Market with its open fair and markets.
Just west of the Golden Vale, the village of Shanagolden is conveniently located between Foynes and Newcastle West, providing the perfect location to access a wide range of exciting holiday experiences.
With over 2,500km of world-renowned heritage coastline extending from Cork to Donegal, the Wild Atlantic Way offers a world of endless adventures.
Where the Shannon meets the Atlantic Ocean, the Shannon Estuary Way offers a truly wonderful way to explore some of Ireland's unspoilt beauty and wildlife as well as a vast array of fun filled activities right on your doorstep.